Register Now For Optional Activities
Superstar Tennis and Private Tennis Lessons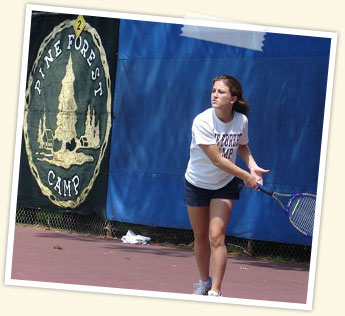 Camp's award-winning tennis program – Mid-Atlantic United States Tennis Association (U.S.T.A.) Organization of the Year.
Two Superstar Tennis Programs
Superstar: for all ages and all levels of players, with the emphasis on teaching good technical and playing fundamentals. Advanced instruction for those who aspire to compete in USTA tournaments year-round.
Private Lesson Program: for players who are interested in private lessons only.

All Superstars will receive:
One daily high-energy instructional drill session including conditioning and tactical sessions.
Two private individual lessons per week with an experienced professional.
Membership in the U.S.T.A.
Participation in a U.S.T.A. sanctioned tournament.
Personalized, in-depth evaluation and development plan by the head tennis pro.
Certificate of completion.
Tennis Ladder competition.
Superstar T-Shirt.
Stroke Analysis and strategy sessions.
Feedback:
Camper (Meredith J.): "Thank you very much! I will work my hardest, and next year I will be great at Tennis. I also appreciate your hard work and I will try my best."
Parent (Ellen B.): "Thank you for the feedback and for your good work with Aaron this summer. My husband and I played tennis with Aaron this past weekend and noticed a big improvement since the beginning of the summer. Aaron also seems more motivated and confident."
Parent (Janice N.): "Thank you so much for providing Evan with a meaningful Tennis experience this summer. He thoroughly enjoyed Superstar Tennis and loved playing at a more intensified level. With appreciation!"
Register Now